MITO Hatchback I - od 2008
Alloy wheels for Alfy Romeo MiTo
Alfa Romeo MiTo is a 3-door hatchback from the B segment, presented in 2008 and produced until June 2018. Thus, Alfa Romeo has not introduced any successor for this model. The name MiTo is a combination of the names of the cities of Milano, where the car was designed, and Torino, where production took place.
History Alfy Romeo MiTo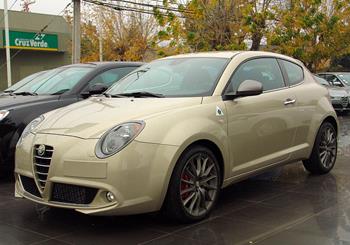 MiTo shares the floor plate with the Opel Corsa and Fiat Grande Punto. The distinguishing element of this car is certainly the body of the design of Juan Manuel Diaz, drawing inspiration from the sports model 8C Competizione from the same manufacturer. Not missing the V-type front bumper characteristic of the Alfa Romeo. The Alfa DNA technology used allows you to travel in three driving modes: dynamic, normal and maximum safety in difficult driving conditions. 2013 is the first facelift of the series. The changes mainly concerned the appearance: the radiator grille was refreshed on the one known from Giuletta, the expanded palette of body colors and upholstery designs, the multimedia system and engine were modified, giving it 105 HP. The second modernization of 2016 brought very similar changes: the front of the car was similar to the Giulia model, not forgetting the new brand logo, new body colors and alloy rims designs were added, and the engine range was supplemented with a 170 horsepower motor available under the MiTo Veloce version.
Wheels Alfa Romeo MiTo
As a company focusing primarily on aluminum rims, we can offer you a large selection of rims also for the MiTo model. Alloy wheels are covered by a 3-year warranty, each of which undergoes appropriate safety and quality tests. The entire offer is available via the website, we also invite you to stationary branches in Gdańsk and Warsaw.
... (show more)
... (hide)
Add to compare
RacingLine
za set (4pcs) brutto
Size:

16''

Rim width:

6.5''

Wheel PCD:

4x98

ET (offset):

35

Prezentację produktu na YouTube:

https://youtu.be/LoqZs-cFvc4
Add to compare
RacingLine
za set (4pcs) brutto
Size:

17''

Rim width:

7''

Wheel PCD:

4x98

ET (offset):

38

Prezentację produktu na YouTube:

https://youtu.be/sckQQvuFnPQ
Add to compare
RacingLine
za set (4pcs) brutto
Size:

16''

Rim width:

6.5''

Wheel PCD:

4x98

ET (offset):

35

Prezentację produktu na YouTube:

https://youtu.be/RjjpBr9gPas
Add to compare
RacingLine
za set (4pcs) brutto
Size:

16''

Rim width:

6.5''

Wheel PCD:

4x98

ET (offset):

35
Add to compare
RacingLine
za set (4pcs) brutto
Size:

17''

Rim width:

7''

Wheel PCD:

4x98

ET (offset):

41
Add to compare
RacingLine
za set (4pcs) brutto
Size:

17''

Rim width:

7''

Wheel PCD:

4x98

ET (offset):

41
Add to compare
RacingLine
za set (4pcs) brutto
Size:

16''

Rim width:

6.5''

Wheel PCD:

4x98

ET (offset):

35