STELVIO - od 2017
Alloy wheels for Alfy Romeo Stelvio
Alfa Romeo Stelvio - 5-door luxury four-wheel drive crossover. Manufactured and sold by the FCA automotive group under the Alfa Romeo brand since 2016.
History Alfy Romeo Stelvio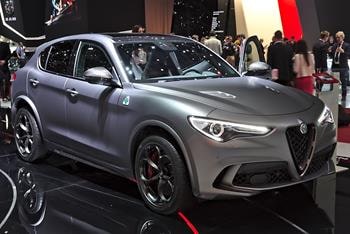 The beginning of this model should be sought in 2003 together with the presented Kamal prototype, whose heir is Stelvio. The final version was presented at the Los Angeles trade show in 2016, and production started soon. The Giorgio floor plate used is the same that can be found in the Giulia model and other manufacturers such as Dodge, Maserati or Jeep. In Stelvio, as befits a premium class car, there were the latest technologies and solutions. And so, the basic equipment under the name "Super" includes: 6 safety cushions, bi-xenon headlights, keyless operation, 18-inch alloy wheels, automatic air conditioning divided into zones, lane assistant or an eight-speaker audio system. The equipment also includes the proprietary Alfa Connect system with connections in part of the distribution board, next to the clocks. In addition to the 2.0 MultiAir Turbo gasoline engine and 2.2 MultiJet II diesel engine, there is also the option of a 2.9-liter V6 with full 510 hp in the most powerful version of the Stelvio Quadrifoglio. Alfa Romeo and Ferrari works with an 8-speed transmission and 100 km / h lets achieve in 3.8 seconds and includes 282 km / h.
Wheels Alfa Romeo Stelvio
We invite you to view the offer of the Ladnefelgi.pl store where you will find alloy wheels, tires, steel wheels, as well as pressure sensors and screws. All available on the Internet and through stationary branches.
... (show more)
... (hide)