A4 / S4 Cabrio - B7 - od 2006
Alloy wheels for AUDI A4 B7 Cabrio
The Audi A4 B7 Cabrio is already the third model in the A4 family, but in a version with a folding roof. This model is ideally suited to lovers of summer trips, but no weather conditions are not terrible. The roof can be easily and quickly folded and unfolded at any time. This model is available in many engine options from 1.8 to 3.2 FSI.
Wheels AUDI A4 B7 Cabrio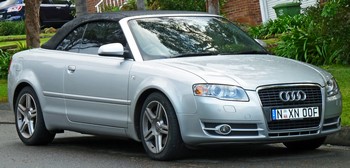 The smallest engine in this model is 1.8, where rims and tires with a diameter of 16-19 inches are proposed. Nokian 205/55 r16 tires are recommended for rims 16. A maximum of 19 '' alloy wheels can be fitted to the Audi S4 Convertible. Tires for 19 inch rims can be found in our company's offer on ladnefelgi.pl.
... (show more)
... (hide)