A4 / S4 / RS4 Avant - B7 - od 2004
Alloy wheels for AUDI A4 B7 Avant
The Audi A4 B7 Avant is the third model in the A4 family in the estate version. The silhouette of this model is more sporty than its predecessor. The interior also impresses with its appearance, made with extreme precision from the best quality materials. The combo version, apart from being beautiful, has many other advantages. First of all, it can be considered a family car thanks to the spacious interior and thanks to the roomy trunk.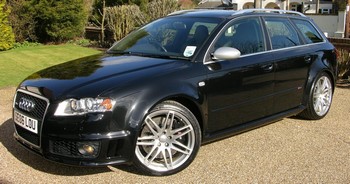 Wheels AUDI A4 B7 Avant
The smallest engine in this model is 1.6, where rims and tires with a diameter of 15-19 inches are proposed. Pirelli 195/65 r15 tires are recommended for 15 rims. Only 19 '' rims can be fitted to the Audi RS4. We also have excellent quality tires for these. We offer a wide selection of rims for each car. Our cars should look good on the roads both in summer and winter. We are here to help you choose the right wheel design. Our offer also includes 16 steel wheels for Audi, which are perfect for the winter season.
... (show more)
... (hide)