A5 / S5 / RS5 - B8 - od 2007
Alloy wheels for AUDI A5 B8
The Audi A5 B8 was first presented at the Melbourne and Geneva Motor Show in March 2007. This model is structurally based on the 4th generation Audi A4.
History AUDI A5 B8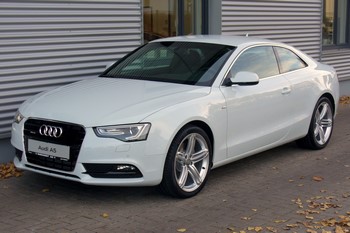 The Audi A5 borrowed many elements from the Nuvolari concept, which has a 600 hp engine. Facelift of this model was carried out in 2011, then the grill changed and the headlights were given a new shape. The back has been slightly smoothed, and the lights use LEDs. The roof line was carried out in the trunk lid, on the other hand it turned into a long bonnet. The interior has also been modernized, the gear lever from the Audi A6 has been placed, chrome details have been incorporated into the dashboard and some buttons have been removed, which turned out to be unnecessary.
Wheels AUDI A5 B8
The Audi A5 is available in many engine versions. The smallest has a capacity of 1.8, while the largest has 3.2. This model can be fitted with rims in sizes from 17 to 20 inches. We sell wheels from the manufacturer - Racing Line. Alloy rims are made by low-pressure method of high quality aluminum. Tires with dimensions 225/45 r18 and 235/40 r18 are recommended for 18 rims. We especially recommend Nokian tires with very good driving characteristics and high wear resistance.
... (show more)
... (hide)