A8 / S8 - D3 - od 2002
Alloy wheels for Audi A8 D3
Audi A8 D3 - the second generation model, which was produced from 2002 to 2009. Car offered in the body of a 4-door sedan, belonging to the F segment.
History Audi A8 D3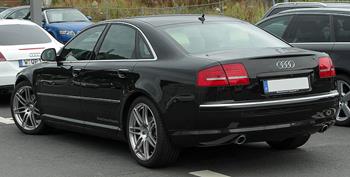 The program for the design of the new A8 began as early as 1997 in the German Inglostadt. This model was built on the Volkswagen Group D3 floor plate. Compared to its predecessors D1 and D2, the car is longer with space for four or five (depending on the configuration) adult passengers. The wheelbase was also increased and, as in previous models, the D3 was available with an extended wheelbase. The engines offer included V6 and V8 petrol and diesel versions. In addition, there was a large 6-liter W12 gasoline engine to choose from. The vehicle was offered in a configuration with front-wheel drive and quattro. Lifting served in 2005 brought the addition of new engines with the FSI system and a new appearance of the radiator grille. A S8 version was also created, which was distinguished by cermic discs and a stiffer suspension. The V10 5.2 FSI engine with 450 hp is installed in this version. The second lift in 2008 is already new technological systems. Blind Spot Assistant has been added and a second lane responder has been added without signaling.
Wheels Audi A8 D3
We invite you to familiarize yourself with the store offer LadneFelgi.pl. We offer alloy wheels with a 36-month warranty, as well as tires and a range of accessories such as TPMS screws and sensors. If you want to see selected models before buying, visit our stationary branches.
... (show more)
... (hide)
Vehicle brands