Q7 - od 2006
Alloy wheels for Audi Q7
Audi Q7 is a car that appeared on the market in 2005. The exclusive SUV was based on the Audi Pikes Peak Quatro prototype from 2003. For the production of this model, the German brand used a VW floorboard. The same disc also has Volkswagen Touareg and the famous Porsche Cayenne.
History Audi Q7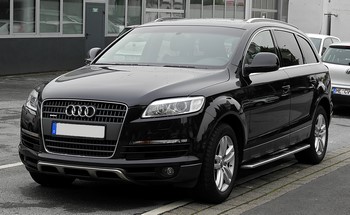 The Audi brand had a quarrel with Infiniti, which concerned the method of naming the model, as it referred to the existing Infiniti models: Q45, QX4. However, the dispute was resolved fairly quickly and the competitive brand allowed the use of the symbol "Q" in the name only in two models: Q7, Q5 and Q3. In 2009, the German brand model underwent a face-lifting. The design and appearance of this SUV is impressive. The car is very large. Its length is slightly more than 5 meters, while the width is less than 2 meters, such dimensions guarantee a huge space for both the driver and passengers. Thanks to its size, the car offers the installation of an additional 2 seats, so that 7 people can travel by car. The car creates the impression of a dynamic, off-road car with modern LED lamps. The interior of the German SUV also catches the eye. The use of great quality materials, modern clocks and displays as well as armchairs full of design and comfort also deserve praise. Although the car is colloquially called off-road, its purpose is not to drive on terrain. The Audi Q7 works best on highways, expressways and fast traffic.
Wheels Audi Q7
For owners of SUVs, our store has also prepared a special offer. Rims for larger passenger cars have higher strength parameters. This is evidenced by the certificates of the aluminum wheels of the Racing Line manufacturer. Our products also include a 36 month warranty.
... (show more)
... (hide)