R8 Coupe II - od 2015
Alloy wheels for Audi R8 Coupe II
Audi R8 Coupe II - the second generation of the R8 model in the supercar segment. The car has been produced since 2015.
History Audi R8 Coupe II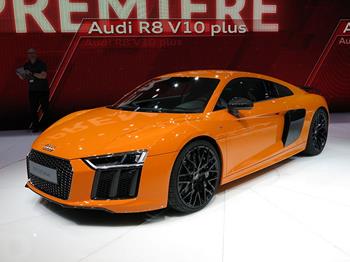 The car was officially presented at the Geneva Motor Show 2015. The engine in which the vehicle for the V10 FSI DOHC with a capacity of 5.2 l and power of 540 horses is equipped, which works with the 7-speed S-tronic semi-automatic transmission. For the lucky ones wanting to get behind the wheel of the Plus version a reinforced 610 HP engine was commissioned. The stylistic thought of the model remained unchanged, to be dynamic and sporty, however, with reference to the consistent trends of the manufacturer. So again, the design was slimmed down by using the lightest materials possible, i.e. the main carbon compounds and aluminum. Modified grille at the front for more flattened, similar to the one known from the latest TT model. New laser headlights and daytime running lights have also been implemented. The latest applications are not available inside, including a virtual dashboard with main 12.3 "with the function of using functions and other information from an on-board computer, multimedia system or GPS.
Wheels Audi R8 Coupe II
The latest edition of the Audi R8 II is the result of a large work of designers who put this car at the forefront of global solutions worth imitating. The sporty character of the car can be particularly emphasized by fitting the appropriate aluminum rims. We invite you to familiarize yourself with our company's offer. We recommend buying top tires from top manufacturers with alloy wheels, not forgetting the screws and TPMS sensors.
... (show more)
... (hide)