TT Coupe - 8S - od 2014
Alloy wheels for Audi TT Coupe
Audi TT Coupe - model 8S is the third generation of TT, which has been produced since 2014 in Gyor in Hungary by the Audi Hungaria plant. The vehicle is offered with front-wheel drive and Quattro.
History Audi TT Coupe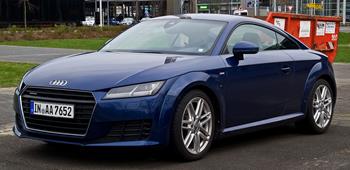 The official version of the car was in 2014 at the Geneva Motor Show. Among the changes compared to its predecessors, many stylistic evolutions should be noted. The flattened radiator grille, new design of LED headlights or virtual dashboard, which expands its functionality with traditional clocks and indicators, presenting everything on a 12.3-inch screen. The car is offered in conjunction with TFSI 2.0 engines with 230 HP and 310 HP, a more powerful 2.5-liter petrol engine with 400 HP and 2.0 TDI on board with 184 HP. In addition, there is a 6-speed manual or S-tronic transmission to choose from. At the same time as the TT Coupe, the TTS version was also presented, characterized by an even sportier style. Attention should be paid to four exhaust tips, implemented diffuser or 18-inch alloy wheels.
Wheels Audi TT Coupe
A beautiful sports car deserves alloy wheels that will underline its dynamic character. In the LadneFelgi.pl store offer you will find a whole range of aluminum rims that are designed to meet every taste. Those interested in looking at the rims live are invited to the stationary branches in Gdańsk and Warsaw.
... (show more)
... (hide)