1 (E87) - od 2004
Alloy wheels for BMW 1 E81/E87/E82/E88
The BMW E87 is the first generation of the BMW 1 Series. It is a compact car that has been manufactured since 2004. The car belongs to the lower middle class and belongs to the Premium group.
History BMW 1 E81/E87/E82/E88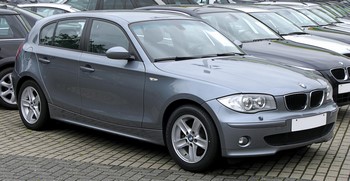 It was designed and manufactured as competition for the Audi A3. The E87 model technically refers to BMW 3-series cars. At the beginning, the model was produced as a five-door hatchback (E87), while from 2007 the coupe (E82), convertible (E88) and three-door hatchback (E81) versions appeared on the market. In the same year the model underwent a face lifting. The BMW 1 Series model has gained customer recognition in a very short time. The car became very popular and over one million vehicles were manufactured. The last copies of this BMW model from the series one left the factory in 2011, at the same time the second generation of the model appeared on the market.
Wheels BMW E81/E87/E82/E88
To improve the appearance of the BMW E81 / E87 / E82 / E88 car, we invite you to familiarize yourself with our offer of alloy wheels. A simple configurator located on the main page of our online store will help you find perfectly matching rims for your car. If you have questions, our qualified team of specialists will assist you.
... (show more)
... (hide)
Vehicle brands