2 Active Tourer (F45) - od 2014
Alloy wheels for BMW 2 Active Tourer (F45)
BMW 2 Active Tourer (F45) - a minivan, being the first model of the Bavarian manufacturer in this class.
History BMW 2 Active Tourer (F45)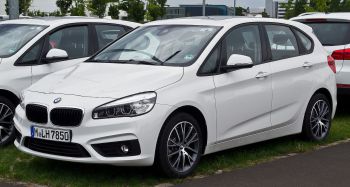 This model was presented in 2014 in Geneva. BMW first used front-wheel drive, breaking its tradition and attachment to RWD. The vehicle class and intended use, however, exclude the desire for sporty driving, which is why this change is fully justified. BMW offered a quite wide range of gasoline engines and diesel units in the vehicle. A hybrid version is also available. The powers achieved on gasoline models range from 102HP to 231HP. Diesel models, on the other hand, present an equally wide selection starting from 95KM and ending with the 190KM option. The aforementioned hybrid version has a gasoline engine with a capacity of 1499ccm and a power of 136HP combined with an electric motor giving an additional 88HP.
Wheels BMW 2 Active Tourer (F45)
In our store we have a wide selection of rims for the BMW 2 Active Tourer (F45). You will find sizes from 16 to 20 inches, in designs that will emphasize the body line and give character to the vehicle. All rims from our store have ISO certificates, which proves the high quality of the goods.
... (show more)
... (hide)
Vehicle brands