5 (F10) - od 2010
Alloy wheels for BMW 5 F10
The BMW F10 belongs to the 5 series and is its 6th generation. The model appeared on the automotive market in 2010 and its predecessor was the BMW E60. The model belongs to the upper class from the Premium group.
History BMW 5 F10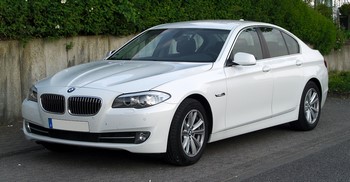 The main designer of the new generation 5 series was Adrian van Hooydonk, but it is interesting that a Pole - Jacek Frohlich - also took part in the design. The silhouette of the BMW F10 resembles the traditional look of BMW, the shapes are more streamlined and delicate, but the model is slightly larger than its predecessor. The BMW car is available in two body versions: sedan (F10) and station wagon (F11). We also have 4 gasoline engines 2.3-4.4 l and 4 diesel engines 2.0- 3.0 l to choose from. It is also worth paying attention to the luxurious interior equipment and amazing driving characteristics. The iconic version of the BMW 5 Series is the BMW M5 with 555HP engine. The car competes on the roads with Mercedes E-Class, Audi A6, Lexus GS or Jaguar XF.
Wheels BMW F10
BMW F10 users will find the perfect wheels for their car. Our alloy wheels can be used both in summer and winter. The quality of the product is demonstrated by a 12-month warranty on the paint coating, while the manufacturer's defects resulting from the fault of the manufacturer are granted a 36-month warranty. We guarantee high quality at an affordable price. Alloy rims significantly increase the standard. A well-chosen pattern of rims will emphasize the sporty or exclusive appearance of the car.
... (show more)
... (hide)
Vehicle brands