5 (G31) - od 2017
Alloy wheels for BMW G31
BMW G31 - premium estate wagon, which applied a small stylistic changes compared to its predecessor. One of the most popular models in its class.
History BMW G31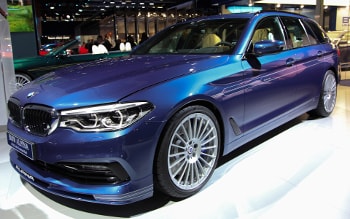 The BMW G31 is a 5 Series Touring model that debuted at the Geneva Motor Show in March 2017. The car has a much larger trunk, therefore it is more roomy than its predecessor. It also weighs about 100 kg less. The version, like the sedan, was constructed on the new CLAR platform, constructed of aluminum, carbon fibers and high-grade steel.
The interior of the car is equipped with very rich security systems and functions such as the 10.25 touch screen. The screen can be controlled using gestures and voice commands. A new feature is the HUD system with an increased amount of information displayed on the central console. It uses GPS location and has a road sign software that helps determine whether to enable the engine start stop function to save fuel. The rear seats of this car are divided in 40:20:40 proportions, they can be folded thanks to pressing the button in the trunk. In the basic version of the five there is a separately opening window in the trunk lid. The automatic opening of the back cover without using your hands also makes it easier. The tailgate opens thanks to the motion sensors located in the rear of the car. To open it, just move your foot under the bumper. The trunk closes in the same way. To start with, the BMW 5 Series Touring will be available with a four-cylinder turbo engine. Its capacity will be 2 liters generating 252 hp of power for the 530i version. The engine will work with an eight-speed automat. Another more powerful variant is the 540i xDrive Touring with a 340 horsepower 3.0-liter drive.
All models as standard are equipped with self-leveling pneumatic suspension. On the list of optional equipment you can also see the "hinge" from M Sport, thanks to which the car's clearance decreases by 1 centimeter. Adaptive shock absorbers with Adaptive Drive system are also available.
Wheels BMW G31
BMW G31 owners will find a wide selection of rims that will perfectly match your car. Hoops can be purchased at one of the stationary branches as well as via the website. ISO certificates confirm the quality of the goods we sell. In addition, a 3-year warranty is granted on aluminum rims.
... (show more)
... (hide)
Vehicle brands