6 (E63) - od 2004
Alloy wheels for BMW 6 E63
The BMW E63 / 64 is a 6-series model belonging to the G segment. It is a sports and recreational car. The E63 / 64 is the second generation of the 6 series. The BMW E63 / 64 premiered in 2003 at the Frankfurt Motor Show.
History BMW 6 E63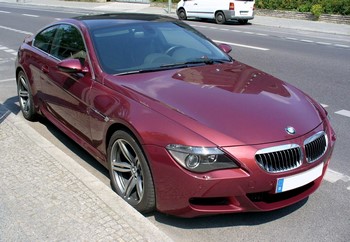 The car is available in 2 body styles: a two-door coupe and a two-door convertible with a folding roof. BMW 6 was produced with four engines - 3 gasoline engines and 1 diesel engine. The car was produced by factories from Dingolfing. The technology used in this model is based on the E60 model of the 5 series. The body was made of very good thermosetting and chemically hardening materials as well as aluminum. The iconic version of the BMW 6 Series has been produced since 2005, the BMW M6. This version is equipped with a 5.0l 507HP engine. All versions of the 6 series are powered by the rear wheels. The BMW E63 / 64 has a very rich and luxurious interior. When it comes to comfort and safety of driving, the car boasts amazing driving characteristics. Production of the BMW E63 / 63 from the 6 series ended in 2010.
Wheels BMW E63
The appearance of the car and its character can just be marked by the alloy wheels . Not only the visual appearance is a plus, but also the properties of using aluminum rims. Alloy wheels have greater resistance to damage, are lighter than steel wheels, which gives us less fuel consumption and less wear on the brake pads. The rims for the BMW E63 are made of the highest quality aluminum. Our products can be used in winter and summer. The manufacturer gives a 36-month warranty for defects arising from the fault of the manufacturer, and 12 months for the varnish coating.
... (show more)
... (hide)
Vehicle brands