X3 (F25) - od 2010
Alloy wheels for BMW X3 II
The BMW X3 of the 2nd generation is a sports and utility car which the Bavarian BMW group introduced on the market in 2010.
History BMW X3 II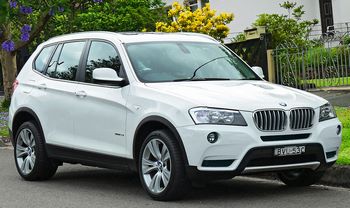 F25 is the successor of the E83, which combines the features of a compact car with the driving characteristics of the larger model X5. It is even based on many of the same components as the larger model from the BMW group's range. The second generation gained larger dimensions, the body became more angular. In 2014, the X3 lifting version appeared. The main changes are mainly the front part of the body: the bumper, the shape of the headlights and the radiator grille. The rear one has also been changed, and the turn signals mounted on the mirror housings. The engine range has been enriched with a 190hp two-liter diesel engine.
Wheels BMW X3 II
We invite you to take advantage of our offer. We have a rich assortment of BMW alloy wheels. Additionally, you can buy tires, accessories and steel wheels. If you have any doubts, please contact us. Our products have safety and quality certificates.
... (show more)
... (hide)
Vehicle brands