X3 (G01) - od 2017
Alloy wheels for BMW X3 (G01)
BMW 4 Gran Coupe (F36) - 5-door version of the sports coupe previously introduced.
History BMW X3 (G01)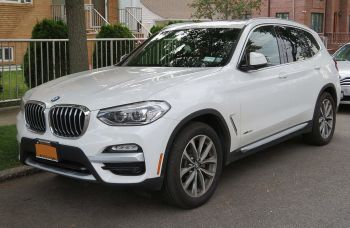 The BMW X3 is a medium-sized crossover that has gained popularity due to good handling, off-road capabilities, while maintaining urban dimensions and good interior space. The G01 generation was officially presented in 2017 in Frankfurt. The car went on sale in the same year and the price for the basic model was 44,000 euros. The car compared to its predecessor is taller and wider, which translates into the comfort of traveling more people. Investments have also been made in modern technologies that have brought gesture control to drivers. The standard BMW X3 is available with both gasoline engines with power from 184 to 360HP and diesel engines with power from 190 to 320HP. Because the car is lighter than its predecessor, performance has been slightly improved and cornering performance has been improved. Alpina subjected X3 to its own modifications and made 388KM available to customers. The electric version of X3 was also presented, but it is expected to be released in 2020.
Wheels BMW X3 (G01)
BMW X3 G01 owners will find in our store rims in a matching pattern that will emphasize the character of the car and make them stand out from the crowd. Our offer also includes accessories such as TPMS sensors that can be programmed for a given model.
... (show more)
... (hide)
Vehicle brands