X4 (G02) - od 2018
Alloy wheels for BMW X4 (G02)
BMW X4 (G02) - Small SUV introduced to the market in 2014. G02 is the 2nd generation of this model and has been produced since 2018..
History BMW X4 (G02)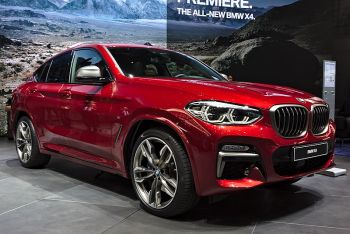 The X4 G02 was designed in parallel with the smaller version of the urban SUV, i.e. the X3. Both cars were built on the same aluminum steel platform, while the X4 offers slightly more space in its cabin. G02 has also grown over its previous generation. Nevertheless, the manufacturer managed to save up to 50kg in weight, which had a very positive effect on driving in corners. X4 can give its drivers quite sporting feel. The undoubtedly offered engines, whose power reaches 248HP in the gasoline version, contribute to this. The range of engines is also complemented by diesel engines from 188 to 322HP. A version of M40 is also available, whose power is 355KM. In 2018, Alpina XD4 was also presented, which has a diesel engine under the hood, which after modification gained 382HP and secured the record for the best accelerating SUV with diesel under the hood.
Wheels BMW X4 (G02)
Lovers of modifying cars will find in our offer great designs of rims for the BMW X4, which will certainly give the character of their car. For this model we recommend 20 "rims that go great with the silhouette of the car.
... (show more)
... (hide)
Vehicle brands