X5 (E70) - od 2007
Alloy wheels for BMW X5 E70
The BMW X5 E70 is a sports and utility car belonging to the E segment, the premium group. It debuted on the market in Paris in 2006, because the car was manufactured in the USA in the city of Spartanburg, South Carolina, it appeared on the market that same year. The car came to European showrooms only in 2007. Its production lasted until 2013. This model is the successor of the first generation X5 E53 produced in the years 1999 - 2006. Is the first largest model of the German brand in this class.
History BMW X5 E70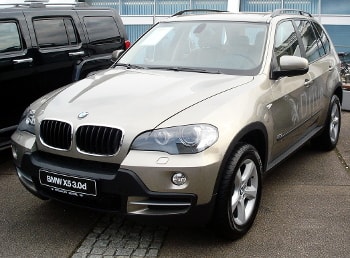 It is equipped with a 5-door body. Compared to the precursor, the new X5 increased by 19 centimeters. The car has achieved great success on the American and European stock exchanges. BMW is characterized by rich equipment, sophisticated interior and phenomenal driving characteristics taking into account this segment of cars. Each version is equipped with xDrive all-wheel drive with variable torque distribution. Under the hood of this modern car we can find 5 engine views. Two diesel - and three gasoline engines from 235 HP to 555 HP. Engine capacity 3.0 to 4.8l. The last version of 555 hp is a typical variant of the X5 M. As befits a real SUV, the drive is on two axles. The car is powered by two automatic transmissions: 6- or 8-speed. To ensure luxury in the X5 suspension, the manufacturers installed a multi-link system, but also pneumatic bellows. German SUV in NHTSA crash tests received 4 out of 5 stars. On the market, the BMW X5 competes with Mercedes ML, Audi Q7, Porsche Cayenne and Lexus RX.
Wheels BMW X5 E70
We offer aluminum and steel rims for the BMW X5 E70. You can also buy Bridgestone accessories and tires from us. We provide experienced consultants who will answer your questions in case of any need. Our products have a 3-year warranty.
... (show more)
... (hide)
Vehicle brands