BERLINGO I - od 1996
Alloy wheels for Citroena Berlingo I
Citroen Berlingo I - kombivan passenger van in the C segment. Its production was started in 1996 in cooperation with Peugeot.
History Citroena Berlingo I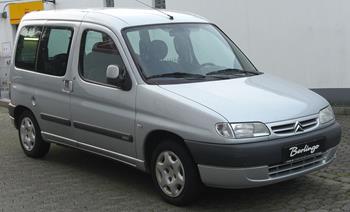 Berlingo of the first generation was presented in 1996 and at the time of its debut was new, thus creating a new segment of cars called universal. The car has its twin reflection in the form of a Peugeot Partner model. Although the design of the car was created from scratch, it uses elements known from other PSA models, including the McPherson front suspension with Citroen ZX or rear suspension with Xantia Break. The Berlingo five-seater version offers a spacious interior with a three-seater sofa at the back, which however gives less comfort than in purely passenger cars. In return, he offers a lot of luggage. The 2002 model facelift modernized the Berlingo look, which gained a new design of headlights, bumpers and dashboard. Another lift in 2006 was the addition to the range of modern 1.6 HDi diesel engines with 75 and 90 HP. Thus, 1.9 D and 2.0 Hdi engines were withdrawn. In addition, a door handle was added to the rear doors and a new design of the headlights at the rear was introduced.
Wheels Citroen Berlingo I
We invite you to familiarize yourself with the wide range of alloys available in our store via the website and in stationary branches in Gdansk and Warsaw. We also offer a wide range of tires from the best manufacturers and mounting accessories. Rims are covered by a 36-month manufacturer's warranty.
... (show more)
... (hide)
Vehicle brands