DS4 Hatchback I - od 2011
Alloy wheels for Citroena DS4
Citroen DS4 belongs to the lower middle class, while, as a model, it belongs to the luxury Citroen DS range. The car premiered in 2011. The base for this model was Citroen C4 II. The difference between them is a more exclusive interior in DS4. In 2011 the International Automobile Festival took place, then the Citroen DS4 received the title of "The Most Beautiful Car of the Year".
History Citroena DS4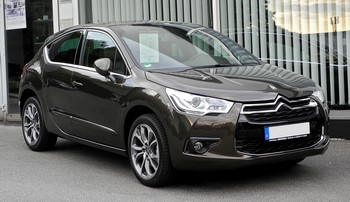 The whole silhouette of the car catches the eye, but especially the headlights, bumpers and side lines of glass. The whole silhouette of the car catches the eye in particular, the headlights, bumpers and side lines of the windows. In addition to the modern look, attention should also be paid to the interior finish. The texture and quality of the materials used to finish the interior, so you can safely classify the interior as luxurious. Suspension is another great advantage of this car. Thanks to innovative suspension applications, the car copes well with a holey, bumpy surface. When driving on winding roads, the Citroen DS4 will do just as well. A thriving steering system and braking system were used in the model. Citroen DS4 is a car refined in every respect, which is why the price speaks for itself. It is a car refined in terms of appearance, quality and equipment.
Wheels Citroen DS4
Alloy wheels are suitable for all seasons. Manufacturer Racing Line gives 36 months warranty on the properties of the rim, while 12 months on the paint coating. Aluminum wheels are certified and meet the strength standards in the European Union. We have the latest alloy wheels that will fit the Citroen DS4.
... (show more)
... (hide)
Vehicle brands