DS7 Crossback - od 2017
Alloy wheels for DS7
DS7 - A crossover car, which is the first model fully designed by DS Automobiles, belonging to PSA.
History DS7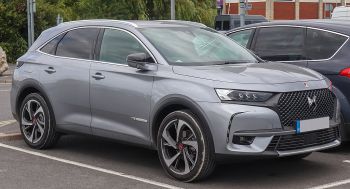 DS7 Crossback was officially presented in 2017. In Geneva. The body was fully designed by the DS brand, which belongs to PSA, which is why the DS7 was built on the EMP2 floor plate, known from the Peugeot 5008. The car was constructed in such a way as to compete with Premium brands such as BMW or Audi. Not very good sales results of previous models prompted the DS brand to reach for modern technologies and slightly more luxurious car production than before. DS7 is primarily to provide buyers with rich equipment and travel comfort. Under the hood of the vehicle we can see 2 configurations of diesel engines with 130 hp and 177 hp and 2 options for 180 hp and 225 hp gasoline units. The manufacturer also predicted a modern solution in the form of a hybrid, combining a gasoline engine with 2 electric motors. It is worth mentioning that the DS7 serves as the presidential car for Emmanuel Macron
Wheels DS7
The DS7 Crossback is undoubtedly a car that stands out from the crowd, but the personalization possibilities provided by the manufacturer can be extended with interesting wheel configurations available in our store. Such a well-equipped vehicle also has TPMS sensors, which we also have on offer. Take advantage of our offer.
... (show more)
... (hide)
Vehicle brands