ACCORD VIII - od 2008
Alloy wheels for Hondy Accord VIII
Honda Accord VIII - the next generation of one of the most popular models of this manufacturer. The very dynamic silhouette is complemented by the sporty driving characteristics. The positives of the car are complemented by Japanese craftsmanship, characterized by durability.
History Hondy Accord VIII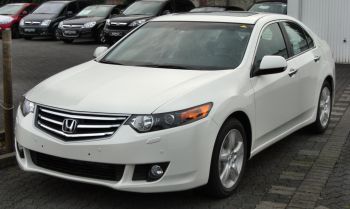 The car was launched by Honda in 2008. The design of the vehicle has not been significantly changed compared to the previous generation, but new lamps, a dummy and bumpers effectively rejuvenated the car body. The design itself has also been slightly elongated, which has added elegance to the Honda. The interior of the car has gained a sporty character, thanks to the redesigned and modern dashboard. In 2011, a vehicle facelift was made, which brought several mechanical modifications to improve the comfort of travel, but there were also changes to the front lamps, bumper and dummy. Honda equipped the vehicle with petrol engines with 156 and 201HP. Units powered by diesel were characterized by 150 and 180 HP. Larger car dimensions, however, did not provide too much space on the rear seat. The trunk is able to fit 467l. The suspension of the vehicle means that the driver feels comfortable on the bumps, without losing confidence when cornering. Crash tests conducted by the Euro NCAP gave Honda a set of stars. In 2015, due to low sales of the model, Honda decided to withdraw it from the European market without introducing a successor.
Wheels Accord VIII
Each Honda Accord owner will find in our store rims perfectly suited to their cars. All aluminum rims we offer have the required certificates, which confirms their excellent quality. A 36-month warranty is provided on the rims in our assortment.
... (show more)
... (hide)