CIVIC IX - od 2011
Alloy wheels for Hondy Civic IX
Honda Civic IX - the hathback of the Japanese group, constituting more evolution than the successor of its predecessor. The car offers very good driving characteristics and also boasts a trouble-free operation.
History Hondy Civic IX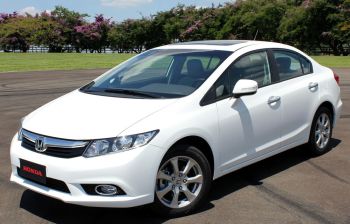 Model of the Japanese Honda group introduced to the market in 2011. The car compared to its predecessor has been slightly refreshed, but has retained the same style. This time the vehicle had almost the same appearance for both the European version and the one released to other markets. Civic IX is sold in Europe in the form of a hatchback, sedan and station wagon, while Americans also have access to the coupe body. The car has gained a bit in length, thanks to which the space inside has slightly increased, providing comfortable travel conditions for a car of this class. The interior of the cabin has been almost unchanged compared to the previous model. The vehicle is offered with 5 engine versions, 2 of them are 120 and 150HP diesels. Gasoline units provide power from 101 to 310HP. In 2013, the concern decided to slightly refresh the car, minimally changing the front of the vehicle. Another facelift was carried out in 2014. All lamps, bumpers and dummy were modernized then.
Wheels Honda Civic IX
The wide range of our store will make you find rims that will perfectly match the Honda Civic IX. Hoops can be purchased at one of the stationary branches as well as via the website. ISO certificates confirm the quality of the goods we sell. In addition, a 3-year warranty is granted on aluminum rims.
... (show more)
... (hide)