CIVIC X - od 2017
Alloy wheels for Hondy Civic X (2017-)
Honda Civic X (2017-) - the tenth generation of the popular compact Japanese manufacturer, which is characterized by a slender and completely different style compared to the previous generation.
History Hondy Civic X (2017-)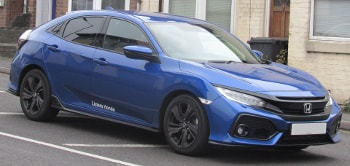 The tenth generation of the Honda Civic was initially sold only on the Japanese and American markets. The first presentation in Europe took place first as a concept car in March 2016 at the Geneva trade fair, and then as a production version in Frankfurt at the Motor Show, which took place in September 2016. Production started in 2017 at plants in Great Britain. Honda Civic X on the European market is offered in a hatchback version and compared to its predecessor slightly lower, wider and longer.
The body designers of the new Civic have stayed on futuristic shapes, and the changes in appearance are cosmetic. The mask, so far flat, has acquired the latest version of muscular shapes. A very characteristic double exhaust has been placed at the rear, located under the central part of the bumper.
The interior of the tenth generation of the Honda Civic immediately catches the eye of a large, clear display of clocks that replaced the two-piece dashboard found in the older generation. Also noteworthy is the large touch screen in the center of the cockpit, which, in addition to improving the functionality of controlling the basic functions of the audio system and navigation, also allows connection with a smartphone. The manufacturer Honda Civic X boasts the largest space in its class and high quality finishing materials, as well as the use of luxury armchairs.
The latest Honda Civic X is available in two versions of 1.0 and 1.5 gasoline engines. These are completely new turbocharged units. There are also plans to offer a car with a 1.6 i-DTEC diesel engine.
Wheels Honda Civic X (2017-)
Honda Civic leaves the factory on 16 '' rims or 17 rims, however, in order to improve the visual effect, it is worth trying even 18 '' rims, which are offered e.g. at www.ladnefelgi.pl
... (show more)
... (hide)