INSIGHT Hatchback II - od 2009
Alloy wheels for Hondy Insight
I-generation Honda Insight was produced in a 3-door hatchback version in the years 1999-2006, presented at Toki. The second generation of the model was presented for the first time in Paris 2008 as a concept car. A year later, the production version was presented in Los Angeles, and the Toyota Prius is the biggest competitor for Insight.
History Hondy Insight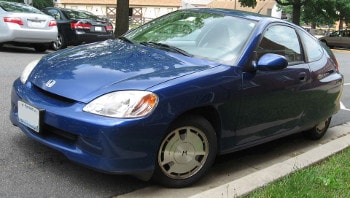 Insight I and II-generation are powered by a hybrid engine with a variable timing cycle, and the first generation of the model was the most economical vehicle on the US market. The second generation was the cheapest hybrid version in the UK which resulted in the best-selling model in 2009. The I-generation was distinguished by rear wheel arches, which partly hid the wheels. The only change that was carried out in the first version of the model was the use of a CD changer in the trunk. The shape of the second generation resembling a wedge was designed to reduce air resistance and thus reduce fuel consumption. In 2010, the car was modernized, and fog lights, a front grille and a spoiler were modified. Honda Insight was included in the Taxi package on the German market. It had a special color, roof brackets and a modernized interior.
Wheels Honda Insight
In our offer you will find alloy wheels for Insight. In addition, we have steel rims, tires and accessories associated with the wheels. The highest quality of our products is confirmed by ISO and VIA certificates.
... (show more)
... (hide)
Vehicle brands