i20 Hatchback II - od 2014
Alloy wheels for Hyundai i20 II
The Hyundai i20 2nd generation was presented for the first time at the Paris Motor Show in October 2014. The second generation of the vehicle, just like the first, was designed at the European Design Center in Russelsheim am Main.
History Hyundai i20 II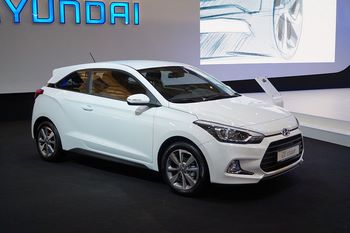 I20 was created on a completely new floor plate, thanks to which its wheelbase is longer than its predecessor by 4.5cm. The new generation received a hexagonal grill placed in the bumper, above which there are lens headlights with LED daytime running lights, and rear lights, which were also made in the same technology. At the end of 2014, Hyundai Motor Company introduced the i20 Coupe, which is the first ever 3-door model of the B segment. Compared to the 5-door version, it has a more aggressive style. A different front apron (larger radiator grille) and the tailgate are crowned with a spoiler. In 2015, a new i20 installment was presented, i.e. a crossover with the vibrant name Active. The most characteristic feature of the car is the 2cm suspension and a package of plastic mudguard covers.
Wheels Hyundai i20 II
We have been selling aluminum wheels, steel wheels and tires since 2008. Our rims are very popular, both in Poland and abroad. Many of our customers make purchases again, recommend us to friends and family. We guarantee very good goods at a very reasonable price. We sell both alloy and steel wheels for the Hyundai i20.
... (show more)
... (hide)