i30/i30 kombi III - od 2017
Alloy wheels for Hyundaia i30 III
Hyundai I30 III is the next edition of the hatchback and station wagon belonging to the C segment. This model of the Korean manufacturer enjoys extraordinary popularity and a good reputation among drivers.
History Hyundaia i30 III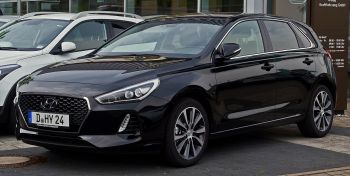 The third generation of the I30 model was put into production in 2016. The body of the latest I30 has finally gained a bit of sportiness due to the more sharp edges. The large grill, which can be slightly associated with the new Audi models, also contributes to this. The car has gained a bit in terms of length and width, but has the same wheelbase. Although the model was initially presented exclusively with the hatchback body version, the manufacturer introduced the station wagon and lift back versions in turn. The latter is characterized by a sloping roof line and a tailgate opening with the glass. Hyundai has also decided to compete with the VW Golf GTI supplementing the offer with I30 N, which is a sporting version of the model. The engine versions provide a power range from 73kW to 202kW. These units can be combined with a manual gearbox or two automatic options.
Wheels Hyundai i30 III
To choose wheels for Hyundai I30 that will fit perfectly technically, we invite you to use the configurator available on our website. In addition, our offer is enriched with accessories such as TPMS sensors that will be programmed for the selected car.
... (show more)
... (hide)
Vehicle brands