iX55 SUV I - od 2009
Alloy wheels for Hyundai ix55
Hyundai ix55 is known under this name in Europe and Russia, while on world markets, where it became famous 3 years earlier, it is known as Hyundai Veracruz. The car was produced in South Korea already in 2006, and it did not hit the European market until 2009.
History Hyundai ix55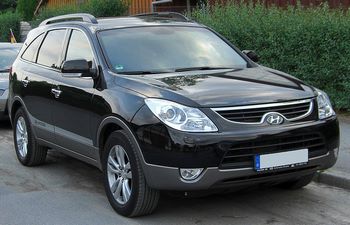 This luxury sports car of the upper middle class technically is based on an elongated and extended Santa Fe floor plate. Compared to its predecessor (Hyundai Terracan), the ix55 design has no frame and reducer, and the drive has been moved to the front axle (the rear automatically attached). The first 3 years of production is Hyundai Veracruz for North America and Korea. Europe had to wait for the debut of the ix 55 at the Paris Motor Show for over two years. As standard, Hyundai offers 6 airbags and side curtains, suede-covered seats with electric adjustment of the driver's seat, multi-functional on-board computer, dual-zone automatic air conditioning with separate adjustment for rear passengers and a leather steering wheel.
Wheels Hyundai ix55
Wheels for Hyundai ix55 must be very durable. The alloy wheels of our manufacturer Racing Line meet all strength standards. Aluminum rims have received ISO, VIA and JWL certificates. We sell a large number of models suitable for Hyundai ix55. Sizes matching this car model are 17 ", 18", 19 "and 20" rims. In our offer you will find a pattern that will make the car even more attractive.
... (show more)
... (hide)