ZAFIRA Tourer C - od 2011
Alloy wheels for Opla Zafiry C
Opel Zafira Torer C - the third version of the model, which this time has been thoroughly redesigned and is also available in the 5-passenger option. The car is in competition with popular models such as VW Sharan and Renault Espace.
History Opla Zafiry Tourer C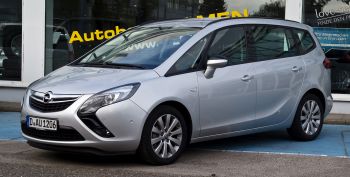 German brand car, presented for the first time in 2011 in Frankfurt. The car was named Zafira Tourer, and was promoted to the "large MPV" class. The manufacturer has completely broken with the current image of Zafira, by definitely modernizing the figure. Attention is drawn primarily to the front lamps in the hollows of an unusual shape and the smoothly rising and falling roof line. The interior of the roof impresses with a huge windshield that extends above the head of the driver and passenger, which can be obscured by a sliding headliner. In the rear of the vehicle, we find 3 independently adjustable and folding seats. An additional 2 folding seats are in the 3rd row, but for the first time Zafira was also offered in a 5-person version. The spacious interior of the zafira is also impressive with a huge number of storage spaces. In 2016 a face-lift was made, during which new bumpers were introduced, the interior was made similar to the Astra K, LED lamps and a front camera were added. The active safety system has been expanded to include sign recognition, lane departure warning, and collision warning. Zafira also won all stars in the Euro NCAP crash test. The car on the market is available in many engine versions providing a power range in the range from 110 to 195HP. Optionally, you could buy a car with a factory installed LPG or CNG system.
Wheels Opel Zafira Tourer C
The modern silhouette of Zafira C can be perfectly emphasized by the interestingly selected rims available in our store. The wide range means that you will find alloy wheels perfectly matched both technically and visually to the selected car. All the articles available on our website have certificates that prove high quality. We also sell very popular steel wheels and high quality Pirelli tires. Enjoy your shopping.
... (show more)
... (hide)
Vehicle brands