4C Spider I - od 2014
Alloy wheels for Alfa Romeo 4C
Alfa Romeo 4C produced at the Maserati factory in Modena by the Fiat brand. His first presentation took place in Geneva 2011 as a concept car. Two years later, the production version was presented in Frankfurt. The car is only available in a two-seater Coupe body.
History Alfy Romeo 4C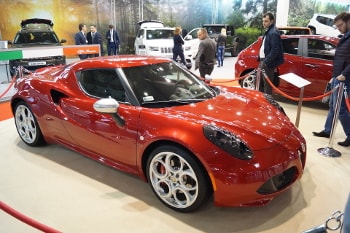 When producing 4C, Fiat focused on the lightest possible vehicle structure to achieve maximum performance. The construction was made of aluminum and carbon fiber cut using CNC technology. Rear-wheel drive is transmitted through a 6-speed TCT automatic transmission with a double dry clutch and shift paddles on the steering wheel. The car uses only one engine supercharged with a turbocharger with a capacity of 1.7l and a maximum power of 240HP and 350Nm. The car uses McPherson struts at the rear, and four ventilated Brembo brake discs stop the car. The Launch Edition equipment version was distinguished by dark alloy wheels, 18-inch at the front and 19-inch at the rear. Has new air intakes in the bumper, brake calipers painted red, spoiler, side mirrors and headlight rims were made of carbon fiber. Inside, the steering wheels and the handbrake lever are sewn with red thread, and the sports seats are sewn with Alcantara.
Alloy wheels Alfa Romeo 4C
Please visit our online auctions and stores. Our advisers are available to users for any question questions. The quality of our products is characterized by ISO and VIA certificates. Additionally we have screws and tires.
Add to compare
felgi RacingLine
behind set (4pcs) gross
Size:

17"

Rim width:

7.5"

Wheel PCD:

5x98

ET (offset):

35