A4 Allroad - B9 - od 2015
Alloy wheels for Audi A4 Allroad B9
Audi A4 Allroad B9 - the second generation of the A4 model with four-wheel drive, the so-called quattro and higher ground clearance. The variety released in 2016 is fully based on the basic A4 B9 model from the previous year.
History Audi A4 Allroad B9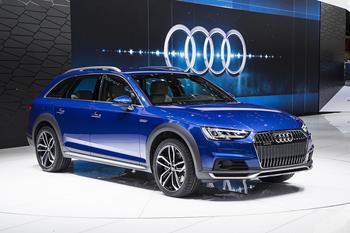 The model presentation was held in January 2016 at the Detroit fair. A distinctive feature of the Allroad version is the higher ground clearance compared to the regular B9, which depending on the wheel size used is from 24 to 34 mm more. The biggest novelty in comparison to the previous version is the adaptive suspension enabling electronic adjustment of the shock absorber hardness. Three engines were available to the customer: 2.0 TFSI 185 kW and 2.0 and 3.0 TDI DPF (110-200 kW). The curb weight of the vehicle varies between 1655-1805 kg, depending on the equipment.
Wheels Audi A4 Allroad B9
We invite users of the A4 Allroad version to familiarize with our company's offer regarding alloy wheels, tires and accessories. In addition to the website, we are also available in stationary branches in Gdańsk and Warsaw. The rims have a 36-month warranty.