A5 / S5 / RS5 - B9 - od 2016
Alloy wheels for AUDI A5 S5 RS5 F5
AUDI A5 S5 RS5 F5 - Grand Tourer sports car manufactured by Audi AG since 2007. The second generation of the model has been produced since 2016.
History AUDI A5 S5 RS5 F5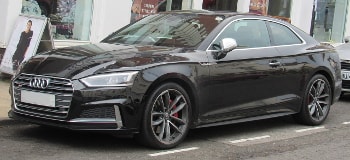 The first-generation Audi A5 presented at the Geneva Motor Show in 2007. Initially, the car was available in a coupe version. In September 2009, a liftback variety called Sportback and Cabriolet was introduced into production. In 2010, the sport version of the RS5 in the Coupe version was presented, and in 2012 in the Cabriolet version.
The vehicle is structurally based on the fourth generation of Audi A4. Audi has used a new technical solution in the A5 model - MLP (Modular Longitudinal Platform) technology, also introduced in subsequent generations: A4 and A6. Many elements were borrowed from the Nuvolari concept model A5, which had a 600 HP bi-turbo V10 engine.
In 2011 the car underwent a face lifting. The vehicle received new grill, new differently shaped front LED headlights and other rear lights.
Wheels AUDI A5 S5 RS5 F5
The Audi A5 F5 comes with 17-inch wheels, but an interesting alternative is the option to use 18-inch, 19-inch and even 20-inch rims..
... (show more)
... (hide)