A8 / S8 - D4 - od 2010
Alloy wheels for Audi A8 D4
Audi A8 D4 is the third edition of the exclusive limousine, whose production period falls in the years 2009-2017. Christian Winkelmann's design car from 2007.
History Audi A8 D4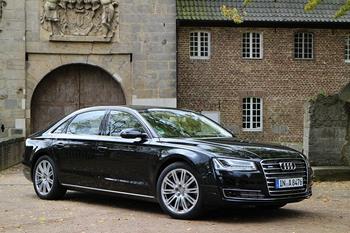 D4 was first introduced in 2009 in Miami. This Volkswagen MBL-based vehicle uses the Audi Space Frame technology known from previous A8 generations. Thanks to this solution, the car is the lightest model of the F segment with all-wheel drive, which also translates into the lowest fuel consumption. In version 3.0 TFSI, the car weighs a total of 1830 kg. The power units are 3 gasoline engines and 2 diesel engines. The version with extended wheelbase is also available here. The variable quattro drive allows the engine power to be transferred from 60% to the rear axle to 80% depending on the conditions. The year 2012 was the introduction of a hybrid engine with a total power of 245 hp. The use of a 2-liter TFSI engine and an electric motor made it possible to accelerate the car to 100 km / h only on electric drive and achieve an average fuel consumption of 6.3 liters. The changes introduced by facelift from 2013 are largely visual refreshment. The front and rear of the car have changed. Among other things, innovative LED turn signals that light up gradually in the direction of the car; LED headlights with cornering light system based on GPS data; blinds controlled by the camera when passing a different vehicle. The next technological innovations include the Audi Matrix system, a driver that reacts to a road situation, which changes the intensity of the lights. In 2013, the S8 model with a 520-horsepower 4.0 engine was introduced. 2014 is the debut of the A8 L Security version for the most demanding customers who meet NATO's ballistic and anti-tank requirements. A year later, another version with a more powerful engine was presented. Under the name Audi S8 Plus there was a 605 hp 4.0 TFSI V8 Biturbo engine with a maximum torque of 700 Nm, and in overboost mode up to 750 Nm.
Wheels Audi A8 D4
The unusual model which is the Audi A8 D4 deserves the rims that will emphasize its class. We invite you to familiarize yourself with the offer of aluminum rims, tires and accessories and to visit one of the showrooms in Gdańsk and Warsaw. We provide a 36-month warranty on the rims.
... (show more)
... (hide)