Q8 / SQ8 / RS Q8 - od 2019
Alloy wheels for AUDI Q8
The Audi Q8 is a luxury SUV that is referred to as a coupe thanks to its sporty sloping roof line.
History AUDI Q8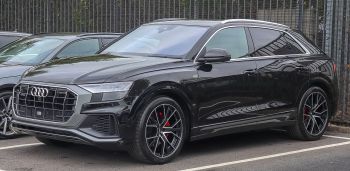 The Audi Q8 was first introduced in 2017 and is in direct competition with the BMW X6, which has not yet had an AUDI rival. This model is extremely modern and equipped with a lot of technologies supporting the driver. We should mention here first of all laser headlights, permanent and legendary 4-wheel drive, 4-wheel steering system, and a new multimedia system. The unusual silhouette despite the vehicle's purpose, gives it an aggressive and sporty character. The large grill adjacent to the headlights evokes the memory of the legendary Audi QUATTRO. The huge body ensures a comfortable journey, providing enough space for each passenger. To drive the car, the manufacturer predicted a 50TDI diesel engine, whose capacity is 3.0l, allowing to achieve 286HP.
Wheels AUDI Q8
The extremely futuristic body of the Audi Q8 deserves a unique rim design that you can buy on our website. The configurator will allow you to choose perfectly matched wheels, ensuring uniqueness and safety. The quality of our products is confirmed by ISO certificates. If you have questions, please contact us.