Wheels Suzuki Celerio I
Suzuki Celerio is an Indian city car produced since 2014. The successor to the smaller Alto and the slightly larger Splash was introduced to the international market without much publicity.
History Suzuki Celerio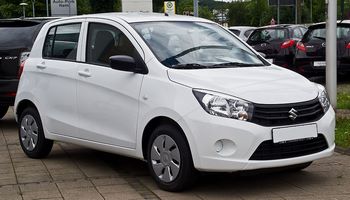 This is a city car produced by Maruti Suzuki in India and Suzuki Motor in Thailand. Maruti Suzuki presented Celerio at Auto Expo 2014, but the production version compared to the presented prototype got more sharp lines that made the silhouette of the car look more serious, but rarely does the production car look better than the conceptual one, which was the case here. Despite the interior made of low-quality materials, it is quite solid and provides a fairly comfortable ride for 4 people. The 68hp one-liter engine still provides quite dynamic driving, and although the car needs 13.5 seconds to accelerate to hundreds, the city driving experience can surprise even those demanding drivers.
Wheels Suzuki Celerio
We have 14 inch alloy wheels for Suzuki Celerio. We sell about 1500 models in various sizes. Our alloy wheels or steel wheels meet the technical and visual requirements. They are made with great care. We are also a tire distributor. Our offer includes Bridgestone and Goodyear tires in popular sizes.