Wheels Suzuki Ignis Hatchback II
Suzuki Ignis is a passenger model introduced by the Japanese Suzuki group in 2002. The car was classified in the B segment with SUV features.
History Suzuki Ignis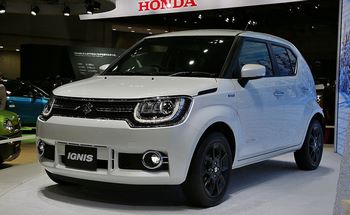 Initially sold only on the Japanese market, in Europe it is available in two versions of 1.3HP 94HP and 1.5HP gasoline engines, and from October 2004 also 1.25HP turbodiesel with 69HP, manufactured at Polish Powertrain plants. European Ignis is based on Subaru Justy III and the Japanese Chevrolet Cruze. The high suspension and specific silhouette of this five-door car ensure excellent driving in difficult urban conditions. 3-door ignis occurs only in Japan. The Japanese have also introduced a three-door Sport version with front-wheel drive and a 1.5-liter engine with 109HP. Suzuki is standard equipping the new Ignis with ABS with EBD, electric power steering, electric mirror adjustment and two airbags. On March 3, 2015, the Japanese company revealed details about the concept car under the name IM-4. The car is to be equipped with 4-wheel drive.
Wheels Suzuki Ignis
Our store offers you a whole range of aluminum rims that perfectly emphasize the style of the car, as well as perfectly emphasize the character of the car owner. In addition to alloy rims, we also offer steel rims that are great for the winter season and give back high durability and low costs. A three-year warranty is granted on all goods from our store.