Wheels Toyota Corolla Sedan XI
Toyota Corolla XI is the latest installment of the Japanese brand released in the polifting version in 2016. From the previous version it is distinguished by a more aggressive and sporty body and a completely changed interior.
History Toyoty Corolli XI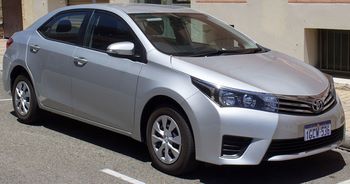 The latest model of this compact sedan has gained the most changes in the interior, the car gained a new 7-inch glass-covered touch screen and a multifunctional on-board computer with a 4.2-inch display. The simplified Toyota Touch 2 system allows easier operation of all functions including the navigation system with a map package and new software. Already in previous models the Toyota Safety Sense system was used, which prevents or reduces the effects of collisions. This system includes an early response system, lane change prevention system, traffic sign recognition system, and automatic traffic lights. The engines in which the latest version of Corolli is equipped are the Turbo D-4D 1.4 diesel and two gasoline units: dual VVT-i with a capacity of 1.33 and Valvematic with a capacity of 1.6. To improve the comfort of driving the new Corolla, the interior of the car was muted and the suspension and steering were improved.
Wheels Toyota Corolla XI
Our store offers you alloy wheels that perfectly emphasize the style of the car and also perfectly emphasize the character of the car owner. In addition to alloy rims, we also offer steel rims that are great for the winter season and give back high durability and low costs. A 3-year warranty is granted on all goods from our store.