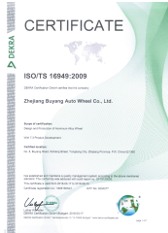 Producent oświadczył, że felgi aluminiowe produkowane są w trybie kontrolowanym / ISO / TS 16 949 / akredytowane laboratorium i testowane w zatwierdzonej jednostce badawczej. Każdy dostarczany produkt został poddany niezależnej kontroli końcowej.

Protokołu niemiecki TÜV NORD potwierdza, że producent w produkcji i testowania akceptuje zastosowanie norm międzynarodowych i europejskich, w tym homologacji zgodnie z wymogami niemieckich KBA.


Makes
x
Registration
If you have not created an account in our store before, you will be asked to provide your details and delivery address.
Create a new account
Login
Log in to access the customer panel.
Sign in with

OpenId
Forgot your login or password?
An email will be sent to your address, which will allow you to log in automatically. You will be able to change your password when you log in to your edit page.
Przejdź do logowania
This page uses cookie files to provide its services in accordance to
Cookies Usage Policy
. You can determine conditions of storing or access to cookie files in your web browser.