STEEL WHEELS FOR KIA CARS
Our store was established in 2008 and since then we have been dealing exclusively with the sale of rims and accessories related to their assembly. Our experience means that owners of various KIA car models can shop safely and comfortably with us.
Our extremely wide range, which includes 1,500 items, enjoying great popularity, has meant that since the establishment of our store, we have gained many satisfied customers. Customers trust us because we sell only high quality rims and accessories from reliable manufacturers. We are well aware of the fact that the running gear, and thus the wheels, are a key element not only in appearance but are the main determinant of safety. You can count on the professional advice of our employees, which is supported by many years of experience. If you want to make purchases in person, we invite you to one of the three branches of our store in Suwałki, Gdańsk or Warsaw. However, we also carry out mail order sales in Poland and abroad.
We provide our customers with additional certainty by providing a 36-month warranty. Rims sold by us have ISO certificates, proving their quality and safety of use. Our assortment also includes rim mounting accessories, so you can make all your purchases in one place.
Are you looking wheels for another car? Check other steel wheels.
Add to compare
Felgi SDT Stahlrader
behind pcs. gross
Size:

17"

Rim width:

6.5"

Wheel PCD:

5x114.3

ET (offset):

40

Center bore:

65.1
Add to compare
Felgi SDT Stahlrader
Our bestseller
behind pcs. gross
Size:

17"

Rim width:

7"

Wheel PCD:

5x114.3

ET (offset):

50
Add to compare
Felgi SDT Stahlrader
Our bestseller
behind pcs. gross
Size:

14"

Rim width:

5.5"

Wheel PCD:

4x100

ET (offset):

38
Add to compare
Felgi SDT Stahlrader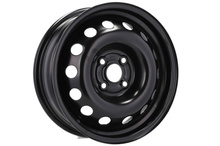 Our bestseller
behind set (4pcs) gross
Size:

15"

Rim width:

5.5"

Wheel PCD:

4x100

ET (offset):

45
Add to compare
Felgi SDT Stahlrader
Our bestseller
behind pcs. gross
Size:

16"

Rim width:

6.5"

Wheel PCD:

5x114.3

ET (offset):

46
Add to compare
Felgi SDT Stahlrader
Our bestseller
behind pcs. gross
Size:

15"

Rim width:

5.5"

Wheel PCD:

4x100

ET (offset):

45