Wheels Daewoo
The Daewoo brand of cars created by a company with the same name. Created first only in South Korea. In Poland, cars of this manufacturer created by Daewoo Motor Polska. After the bankruptcy of the company and the takeover by the American Chevrolet in Poland, many models are created by FSO S.A ..
History DAEWOO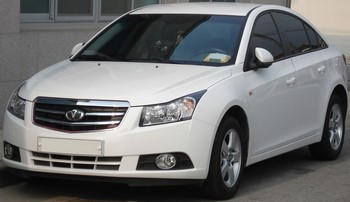 The Daewoo Motor company was founded in 1983, but the roots can be seen already in the seventies. In 1983, cars were sold as a Daewoo brand. In April 1987, cars were exported to the USA. The Racer model was one of them, but it was called Pontiac Le Mans on the American market.
In 1991, one of the Daewoo subsidiaries, signed a license agreement with Suzuki to produce the Alto model, which was named Tico in Korea. In the early 1990s, Daewoo began expanding into Central and Eastern Europe by taking partially shares in automotive factories in the Czech Republic, Poland, Romania and Ukraine. In 1996, the Koreans took over a 10% stake in the Warsaw Car Factory, and the following year this share was increased to 81%. In 1997, the Daewoo-FSO company was established, in which assembly and subsequent production of some Daewoo models was started. In the years 1997–1999 a new generation of vehicles was launched. The shapes of the vehicle bodies were designed in cooperation with well-known Italian companies.
Daewoo Motor Co issued a bankruptcy decision in 1999. General Motors acquired some Daewoo plants, then GM Daewoo Auto came into being; Technology (GMDAT). Vehicles manufactured in these plants are offered under the Daewoo or Chevrolet brands.
Wheels DAEWOO
The most-sold rims for the following DAEWOO models: Espero, Evanda, Kalos, Korando, Lacetti, Lanos, Leganza, Matiz, Musso, Nubira, Tucuma.
Over 1200 models of aluminum wheels. In our offer you will also find steel wheels for your car. In response to great interest in our products, we have opened two stationary stores in Warsaw and Gdańsk, we invite you.