Steel wheels for Mazdy
---
STEEL WHEELS FOR VARIOUS MAZDA MODELS
Owners of most Mazda models bought cars in the right hope for a long and trouble-free ride, which is ensured by Japanese quality. We are also well aware that the decisive factor determining the purchase of a good is its durability, which is why the range of our store comes only from trusted manufacturers, which guarantees high quality and ensures safety.
The quality of services provided by our store is demonstrated by the length of experience and the number of customers making purchases from us. Our company was founded in 2008. At the moment, it already has 1500 products in the assortment. The number of customers who trust us and the services we provide have meant that in order to improve the availability and speed of order processing, we have opened another 2 branches of the store in Warsaw and Gdansk, where you can learn about the quality of products and seek the advice of our employees when choosing rims for vehicle. In addition to the rims in our store you will also find all accessories needed for mounting the rims, such as screws or TPMS sensors.
We invite you to take advantage of our offer, and in return we provide professional customer service, goods coming exclusively from proven suppliers, whose quality is supported by ISO certificates, as well as a 3-year warranty.
Are you looking wheels for another car? Check other steel wheels.
Add to compare
Felgi SDT Stahlrader
behind pcs. gross
Size:

17"

Rim width:

6.5"

Wheel PCD:

5x114.3

ET (offset):

40

Center bore:

65.1
Add to compare
Felgi SDT Stahlrader
Our bestseller
behind pcs. gross
Size:

17"

Rim width:

7"

Wheel PCD:

5x114.3

ET (offset):

50
Add to compare
Felgi SDT Stahlrader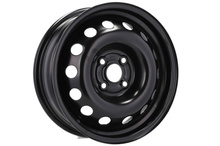 Our bestseller
behind set (4pcs) gross
Size:

15"

Rim width:

5.5"

Wheel PCD:

4x100

ET (offset):

45
Add to compare
Felgi SDT Stahlrader
Our bestseller
behind pcs. gross
Size:

16"

Rim width:

6.5"

Wheel PCD:

5x114.3

ET (offset):

46