STEEL WHEELS FOR HYUNDAI CARS
Choosing the right rims for your vehicle is not an obvious task. Of course, everything seems easy if we want to buy wheels with the same parameters as those obtained at the factory, but we can often improve the driving properties by changing the wheels. It will be useful then to know about the designation of individual numbers and letters in the specifications of the rims and tires. Our consultants will help you choose the optimal size of steel wheels for most Hyundai models and explain all the markings.
Our store was founded in 2008. Since then, it has gained many customers, also among motoring enthusiasts. This demonstrates the great commitment to the work performed and careful customer service. The wide range of our store is so popular that in addition to the head office in Suwałki, from which orders and direct sales are sent, we decided to open 2 branches in Warsaw and Gdańsk. In these places you can personally see the high quality of the rims, which is confirmed by ISO certificates. Our employees will also dispel any doubts regarding the choice of rims for a given car.
We currently offer over 1,500 products for sale, including mounting accessories such as, screws and sensors TPMS. We would like to remind you that the entire offer comes only from proven manufacturers, and high quality is covered by a 3-year warranty.
Are you looking wheels for another car? Check the other steel wheels.
Add to compare
Felgi SDT Stahlrader
behind pcs. gross
Size:

17"

Rim width:

6.5"

Wheel PCD:

5x114.3

ET (offset):

40

Center bore:

65.1
Add to compare
Felgi SDT Stahlrader
Our bestseller
behind pcs. gross
Size:

17"

Rim width:

7"

Wheel PCD:

5x114.3

ET (offset):

50
Add to compare
Felgi SDT Stahlrader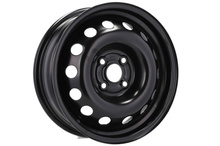 Our bestseller
behind set (4pcs) gross
Size:

15"

Rim width:

5.5"

Wheel PCD:

4x100

ET (offset):

45
Add to compare
Felgi SDT Stahlrader
Our bestseller
behind pcs. gross
Size:

16"

Rim width:

6.5"

Wheel PCD:

5x114.3

ET (offset):

46