Wheels Toyota Aygo Hatchback II
The 2nd generation Toyota Aygo was presented in March 2014 at the Geneva Motor Show.
History Toyoty Aygo II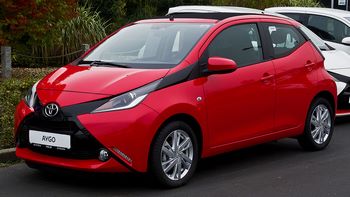 The car was designed from the ground up in the stylistic language "J-Playful" based on Japanese youth culture, a characteristic feature of this style is the X-stylized front belt, which has been equipped with new long headlights and rear lamps. The interior of the vehicle did not miss improvements, there was a 7-inch X-Touch touch screen in which the software based on tiles known from Windows 8 with MirrorLink technology that allows you to display the image from a smartphone on the monitor screen. Aygo are equipped as standard with in ABS with EBD, seats in ISOFIX technology, efficient halogen PES lights, daytime running lights in LED technology, automatic air conditioning, audio system with USB and AUX, Hill Assistance Control drive assistant, tire pressure control system, reversing camera and navigation system and system emergency braking warning. Optionally, you can equip the interior with eco-leather and heated seats.
Wheels Toyota Aygo II
Our store offers rims that perfectly emphasize the style of the car and also perfectly emphasize the character of the car owner. In addition to alloy rims, we also offer steel rims that are great for the winter season and give back high durability and low costs. A warranty of 3 years is given on all goods from our store.