7 (G11, G12) - od 2015
Alloy wheels for BMW 7 G11/G12
BMW 7 G11 / G12 - 7 in the new version is the successor of the BMW F01 / 02. The first model from the BMW range of cars that received the G mark. This means that this model has a standard wheelbase, while the G12 is an extended version. The model was presented at BMW Welt in Munich in July 2015.
History BMW 7 G11/G12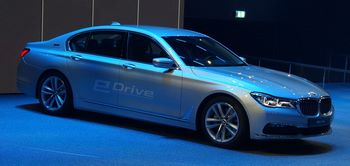 G11 is lighter by 130kg compared to its predecessor, thanks to the fact that materials that were used for the first time in the i3 and i8 cars - i.e. carbon elements - were used. The new six-cylinder engines with 3.0 capacity in diesel and gasoline surprise with performance, the newly developed "petrol" is 240kW, and diesel 195kW. The priority model M760 is equipped with a 441kW V12 gasoline engine. The new 7's are equipped with self-leveling air suspension on both axles, adjustable hardness shock absorbers, LED headlights (at extra charge). An additional advantage is the active steering system, electromechanical anti-roll system, corner heating, heated seats, armrests and steering wheel, as well as a wireless telephone charger or touch screen controlled by gestures.
Wheels BMW 7 G11/G12
If you want to customize the appearance of your car to suit your needs, we provide a very wide selection of aluminum rims in our store. The configurator on our website will help you choose wheels that will be technically perfectly matched to your car. Alloy wheels from our offer have certificates confirming high quality. In addition, a guarantee is provided for all goods.
... (show more)
... (hide)
Vehicle brands