A8 / S8 - D5 - od 2017
Alloy wheel for Audi A8 D5
The Audi A8 D5 is the fourth generation of this model. Production started in 2017 in Neckarsulm, Germany, and continues to this day. The car is offered as a 4-door sedan belonging to the F segment.
History Audi A8 D5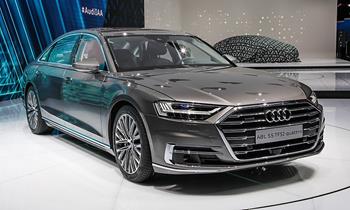 He made his official debut in July 2017 at the Barcelona Fair with its premiere in Poland at the end of the same year. The latest fourth edition, like the previous ones, offers more and more space, despite the fact that the whole structure is from generation to lighter. The typical design for this model has not been abandoned, among which we find a characteristic large Audi radiator grille. The new D5 is the first car in the world from series production that was created with the idea of ​​driving automation. The car is offered only in the version with the Tiptronic automatic transmission and quattro drive. Technological innovations include full-touch operation of the multimedia system. There was also a Matrix LED headlight control system with laser lights and OLED rear lamps. In addition, the A8 boasts a really long equipment list with all current Audi technologies. Among the eye-catching options should be replaced: the replacement of the rear 3-seat sofa for two seats, the possibility of mounting a refrigerator between these seats, night driving assistant, 4-wheel steering system, 3D camera with a view of the outside of the vehicle and 48V electrical system.
Wheels Audi A8 D5
We invite you to familiarize yourself with the wide range of alloy wheels for the Audi A8 D5. In addition, the offer includes tires, pressure sensors and screws. Alloy wheels are covered by a 3-year warranty. At your disposal there is a website and the help of qualified employees by phone and in stationary branches.