Q5 II / SQ5 II - od 2017
Alloy wheels for Audi Q5 SQ5
The Audi SQ5 is a combination of the S line with the Q line which adds to the popular SUV sports variety.
History Audi Q5 SQ5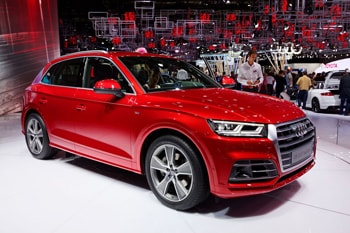 The second generation of the Audi Q5 model was presented at the Motor Show in Paris in October 2016. An important change in the appearance of the second Q5 is, like in other Audi models, the shape of the grill is changed, by emphasizing its sides and using horizontal slats instead of the black grill filling the grill. Both the front and rear headlights have changed, which thanks to the overwhelming number of straight lines, have gained a more expressive and aggressive character. The silhouette of the Audi Q5 has grown slightly compared to the previous version.
The power units that are offered to customers are the 2.0 TFSI and 3.0 TDI gasoline engines. Interestingly, the Audi Q5 diesel engine is only available on the European market. For lovers of greater impressions, the SQ5 version is recommended, in which much more powerful engines are offered, namely - 3.0 TFSI with 354HP and 3.0 TDI with 313HP.
Wheels Audi Q5 SQ5
As standard, the Audi Q5 is equipped with 17 '' and 18 '' rims, while for those who want to stand out from the crowd, an attractive solution will be to fit up to Q5 rims with a size of up to 20 ''.