Wheels Toyota Avensis III FL
Toyota Avensis III was presented by the Japanese group in 2008 during the Paris Motor Show. In 2011, the first Polifting version was released in Frankfurt.
History Toyoty Avensis III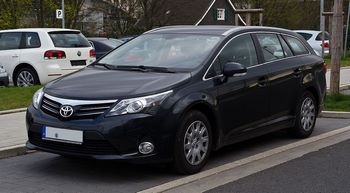 The version after the first face facelift has been modified mainly through a new design of the radiator grille, headlights and rear lamps, and the interior of the car has been equipped with the new "Toyota Touch" multimedia system. In 2015, the second facelift version was presented at the Geneva Motor Show. The car was designed in the French design studio ED2, and research on the vehicle was carried out in Belgium. After the "lift" the car's silhouette was extended. The front of the vehicle has gained new headlights in LED technology, the same modern technology has been used in the rear lamps, the interior has been redesigned and the standard option has been enriched with cruise control with speed limiter, daytime running lights, bluetooth system, air conditioning and CD radio with USB input. The third modernized version from 2015 is also the last installment of Avensis in the history of this model. The automotive world has announced that Toyota expects to terminate Avensis production in 2018, thus not developing a replacement model. The company motivates this decision by focusing on hybrid cars, city cars and crossovers.
Wheels Toyota Avensis III
Aluminum rims are produced by the low-pressure method. The rim manufacturer is the American company Racing Line. The manufacturer gives a 36-month warranty for defects arising from the fault of the manufacturer, while 12 months for the varnish coating. Our products can be bought in person in a stationary store in Gdańsk and Warsaw and through our online store. We invite you to familiarize yourself with our offer.